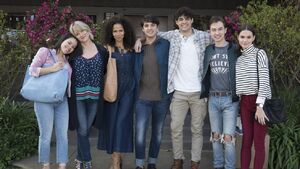 The Adams Foster family is the main family in which the show "The Fosters" focuses on. They are also the main family in its spin-off series, "Good Trouble".
The family is led by wives, Stef and Lena Adams Foster. It includes their adoptive children, Jesus, Mariana, Callie, and Jude, as well as Stef's biological son, Brandon.
History
Stef Foster first met Lena Adams when she came to visit Anchor Beach Community Charter School, in the hopes of enrolling her now five-year-old son, Brandon, in Kindergarten. Lena was the assistant vice principal at the time, and she gave Stef a tour of the campus. They instantly hit it off and became friends, although, both women liked each other as more than that. Lena was already out as a lesbian, however, Stef wasn't and was a closeted lesbian married to a man. Stef struggled with her sexuality and with leaving her husband, Mike, which strained her growing relationship with Lena.
After a while of secretly dating, Stef accepted her sexuality and divorced her alcoholic husband, Mike, and came out as a lesbian to everyone important in her life, choosing to be with Lena. After Stef's divorce, the couple had to endure a custody battle over Stef's son, Brandon. Mike was an alcoholic who didn't want to accept that Stef was a lesbian, and was in the middle of a spiral. After Stef gained custody of Brandon, the trio lived together happily for a few years.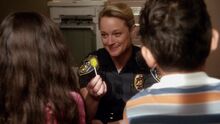 One day, Stef was at the police station on-duty as a beat cop, when she noticed that two five-year-old children were in the precinct alone. She asked a fellow officer why the kids were there, and he told her that their foster parents had dropped them off as they couldn't take care of the twins anymore. Stef approached the children and learned that they were twin siblings named Jesus and Mariana Guiterrez. She gave them some lollipops in the hopes of making them feel better and getting them to open up. Jesus was more open toward Stef, while Mariana barely looked at Stef and only accepted the lollipop when it was from Jesus. Stef went home after her shift and discussed fostering the children with Lena, who was reluctant at first. However, Lena eventually agreed for Stef's sake, though she later fell in love with her children. The couple later purchased a home together and officially adopted the twins. In an unknown year, Stef and Lena were married and officially became wives.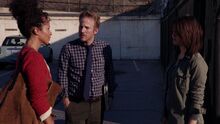 Years later, Lena received a call regarding a foster teen, Callie Jacob, who had just been released from juvie and needed a temporary home. Lena, unable to say no to the girls' broken look, said yes and brought her back to the Adams Foster household. Callie met Stef, the twins, and Brandon, all of whom were skeptical of her. Stef and the kids disapproved of Lena bringing a teenager from juvie with a violent record into their home, but Lena explained that their home would be safer than a group house. Shortly after the brought in Callie, the women discovered that Callie had a younger brother, Jude. They reluctantly brought both siblings into the home so they wouldn't have to be separated. Callie and Jude bonded with the other Adams Foster teens, and they formed the start of a new family.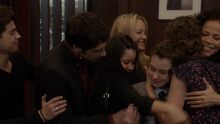 After a few months, Stef and Lena decided to make the foster situation more permanent, which made Callie and Jude very happy. The women then began the process of adopting both of the kids. While the road to doing so was long, surprising, and complicated, they were only able to adopt Jude. They had wanted to adopt the siblings together, but it wasn't possible due to last minute complications. Jude initially didn't want to be adopted without Callie, but she convinced him that it was okay and told him she loved him. After Jude was officially adopted, his last name was legally changed from "Jude Jacob" to "Jude Foster". Stef and Lena than began what would be the long journey of adopting Callie.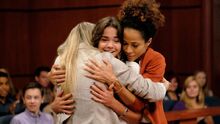 Adopting Callie proved to be more of a struggle than anyone anticipated. This transpired after her biological father, Robert Quinn, entered the picture and requested custody after he promised to sign away his rights. The incident with Robert was eventually resolved, but the adoption was further complicated by a number of incidents, such as the following: Callie having had a romantic relationship with Brandon, then being placed into Girls United, plus a leaked restraining order again Brandon from Callie that the moms put in place, and many more. Because of the legal consequences, everyone believed that Callie wasn't going to be able to be adopted by the family. Months later, to everyone's surprise, Stef and Lena were finally able to adopt Callie, making her an official member of the Adams Foster family.
Members of the Family
Extended
note: this list includes biological parents of the foster children along with husbands/wives
Mike Foster - Mike is a police officer for the San Diego Police Department and the ex-husband of Stef. Stef and Mike were married fairly young, and had one child together, Brandon. After Stef met Lena she accepted the fact that she was gay and left Mike for Lena, and took their son with her. He wasn't a part of Brandon's childhood due to his drinking problem and his inability to care for himself or Brandon. After a few years, he became sober and started to play a larger role in the family - a role which only grew. He now has a close relationship with Brandon and his siblings, as well as Stef and Lena. Mike is currently married to Ana Gutierrez Foster and is the step-father to her daughter, Isabella. Ana and Mike are also expecting another child together.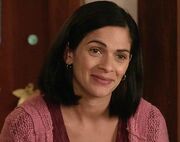 Ana Gutierrez Foster - Ana is the biological mother of Jesus and Mariana. While she was in high school, Ana had a relationship with an older boy when she was sixteen and he was eighteen, a relationship that her parents disapproved of. They eventually had Gabe arrested and put in jail, but Ana was already pregnant with the twins. She decided to keep the pregnancy from her family and started living on the streets. She became addicted to drugs and alcohol and did anything she could for drugs. She neglected her children deeply, which led to them being put into the foster care system. Over ten years later, Ana reconnected with Mariana and Jesus, and while their path was very tumultuous (mainly due to Ana's drug addiction) they eventually formed a version of a family bond. Ana relapsed a few times which disappointed the entire Adams Foster family each time but has since been able to stay clean. She is also the mother of Mariana and Jesus' half-sister, Isabella. She is currently married to Mike Foster and is expecting their first biological child together.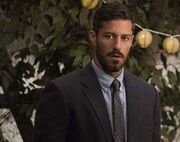 Gabriel Duncroft - Gabriel "Gabe" Duncroft is the biological father of Jesus Adams Foster and Mariana Adams Foster. He had a relationship with then sixteen-year-old Ana when he was eighteen, which resulted in his arrest. Unbeknownst to him, Ana was pregnant and even had the children. Gabe was a drug addict who bounced in-and-out of jail, rehabs, and many other locations. Eventually, he started working in the construction industry, which led him to meet Jesus for the first time. After a struggling start and several roadblocks, Gabe was able to form a bond with both twins, although, he is closer to Jesus. He temporarily lived in the Adams Fosters garage and shed until he was able to get his own place. Gabe currently co-owns a custom treehouse building company with Jesus.
Eliza Foster - Born Eliza Hunter, she is a musical prodigy and highly gifted cellist, who plays in symphonies for a living. She is the only daughter of Jim and Diane, and the only sister of Jamie and Carter. While in college she met Brandon Foster, and the two instantly connected and started dating soon after their first coffee. After a few years, the pair were engaged and married in Turks in front of their friends and family. Eliza is currently the wife of Brandon and the daughter-in-law of Stef and Lena.
Property
Notes and Trivia
Gallery
Community content is available under
CC-BY-SA
unless otherwise noted.