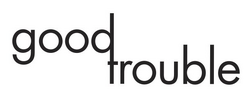 Good Trouble is an upcoming spin-off of The Fosters, centered around Callie and Mariana Adams Foster. It has been ordered to series and will have 13 episodes.[1][2][3][4] Season 1 premiered on January 8, 2019 on Freeform.[5]
Premise
Good Trouble follows Callie and Mariana as they move out of the Fosters home and go to Los Angeles to chase their respective careers. They move into an apartment complex called The Coterie and meet their neighbors that come from different backgrounds who are also following their dreams. Callie starts to work for a judge while Mariana tries to find her place in the male-dominated tech world.[6]
Cast
Main
Recurring
Emma Hunton as Davia. Davia is a no-holds-barred teacher who also lives at The Coterie.
Ken Kirby as Benjamin. Benjamin is a conservative fellow clerk who works with Callie and Judge Wilson.
Molly McCook as Rebecca a fellow law clerk with Callie, whose grandfather is a Republican U.S. Senator and comes from a political dynasty of sorts. She is friendly enough, but hyper-driven to be perfect in order to live up to her family's expectations.[7]
Josh Pence as Dennis the oldest tenant at The Coterie, with a mild case of arrested development, and an aspiring musician.[8]
Michael Galante as Bryan a sexy, gay man, Bryan lives in downtown LA and works as an event planner at the Standard Hotel.[9]
Hailie Sahar as Jazmin Martinez Gael's transgender sister, who comes from a traditional family. After losing her job, Jazmin goes to her beloved brother for help.[10]
Anastasia Leddick as Kelly (10/13)[11]
Max Cutler[12] as Sam Higgins (6/10)[13]
Zachary Gordon[14] as TBA
Nicki Michaeux as Sandra[15]
Guest
Kira Kosarin as Aria[18]. Aria is a free-spirited young woman who visits a resident at The Coterie.
Steven Krueger as TBA (1/13)[19]
Episodes
Season
Episodes
Originally aired
DVD release date
Series Premiere
Season Finale
Region 1
Region 2
Region 4
1 
      13
    January 8, 2019
13
TBA
TBA
TBA
Spoilers
The series will center around Callie and Mariana Adams Foster as they "embark on the next phase of their young adult lives",[1][2] in Los Angeles one year after the finale of The Fosters.[1]
The spin-off will start with Mariana and Callie moving to downtown Los Angeles together, getting their first apartment, and starting their lives as adults.[20]

While living together, they take two very different paths and explore the different sides of the city — Callie will continue to be involved in social work, while Mariana will be immersed in the tech world.[1][2] Callie will also have finished her law program by then, is studying for the bar and is clerking for a judge.[20]

The hope is to have all or most members of the Adams Foster family members make guest appearances on the show.[1][2][20]
The series will be introduced by the three-episode summer event of The Fosters.[2]
The first episode, with the working title "DTLA", was directed by Jon M. Chu, written by EPs Joanna Johnson, Peter Paige, and Bradley Bredeweg.[3][5]
One-year has passed since the ending of The Fosters.[21]
Both Maia Mitchell and Cierra Ramirez are executive producers of the series.
Notes and Trivia
The shows official theme song is "Bel Ami" by Kim Bingham.
References