Liam is a recurring character of The Fosters. He is portrayed by Brandon W. Jones. He appeared for the first time in Saturday, at Wyatt's party, but had been spoken about in previous episodes.
Biography
Liam was the former foster brother of Jude and Callie, with whom they lived with for two years before being placed in another home. Liam was initially nice to Callie, sometimes flirting with her, before finally getting her to start a relationship together despite their age gap and being foster siblings. However, late one night, he snuck into her room to have sex with her. Despite her pleas that she wasn't ready for sex, he went on to rape her. Shortly after this, he claimed that she came onto him and therefore got Callie and Jude quickly thrown from the house, leaving Callie feeling guilty. 
Liam began grooming another foster sibling, Sarah, in the same fashion he did with Callie in order to repeat his actions. Callie knew what Liam was doing and wanted to protect Sarah, and soon reported to Lena and Stef about what happened between her and Liam. Sarah was then removed from the Olmstead's home.
Physical Appearance
Liam has an athletic body with blue eyes and short dirty blonde hair.
Series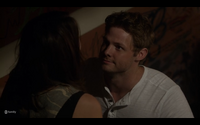 Liam comes across Callie during Wyatt's party and warns her to stay away from
Sarah
, whom Callie was trying to warn about him, and to stop going through his personal business. Wyatt interrupts them, concerned with how Liam is handling Callie. However, Liam bemusedly says he was just catching up with a old friend, proceeding to walk away as he says "Later, Cal."
Later on during the day, Callie is shown to be getting ready for bed along with Mariana. She begins to text Wyatt before falling asleep, only to be messaged by Liam instead. He sends Callie a picture of a tree in her backyard and sends with it, "that is the tree behind your window isn't it?" making her get out of bed to look out the window in horror and concern, realizing that Liam knows where she lives.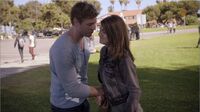 tries to tell him to leave, Wyatt comes and attacks Liam. The two fight as Callie tries to break it up and Brandon quickly arrives on the scene, calming things down. He eventually leaves after the fight, driving off in a fury. 
Liam is first seen in this episode at the court hearing. He is dressed in a suit. When Callie is talking, he seems essentially nervous, especially when she boldly tells him, "you know what you did to me." Liam wins the case due to lack of evidence.
After trying to figure out why she backed out having sex with Wyatt, Callie has a hallucination of Liam at her work. She tells Jude about it, who holds her hand in comfort as she starts to cry. She also finally confesses to Wyatt that she was raped and while she thought she was over it, has realizes that she is still dealing with it. He tells her to take all the time she needs to get through it.
Callie is in therapy while trying to figure out why she has been suffering from panic attacks and why she can't let herself be sexually intimate with Wyatt. Her therapist suggests that while she trusts Wyatt completely, she thought she could also trust Liam as well and he ended up betraying her; thus she is unable to trust her own judgement since this betrayal. Her problem with Wyatt further stems from her betrayal with Liam, which Callie realizes she is still reeling from emotionally.
Later, at the Mexican street festival, Wyatt ends up seeing Liam there while with Callie. He tells Brandon about him being there and tries to force Liam to leave so Callie won't have her day ruined by him. When telling Liam he's ruined Callie's life enough, Liam turns it around and claims she ruined his life. He accuses Callie of lying about being raped by him and being dragged to court ruined him. He then boldly says that he simply had sex with Callie and that "she wanted it". This sends Wyatt to punch Liam and to start a fight, which Brandon gets dragged into trying to break up. After the fight is broken up, Callie silently watches the event and makes eye contact with Liam before leaving. He later leaves and Wyatt tries to catch up with Callie.
While preparing for her emancipation, Callie finds out that somebody has stolen her identity, and has been taking out credit cards under the name 'Callie Jacobs.' Stef investigates it, and she finds out whoever stole Callie's identity has been buying designer handbags. Stef goes on craigslist to set up a meeting with one of the potential thieves. Meanwhile, Callie notices Sarah at the drop-in center.
One day, Callie notices that Sarah's handbag resembles the handbag's that Stef showed her. Callie steals the handbag and has a look through it: she finds a bunch of credit cards in her name. As Stef goes to buy a designer handbag, she quickly notices that Liam is the seller, Stef and Mike then bust Liam for identity theft. At the station, Sarah still refuses to admit that Liam was involved in her plan, this is until Callie tells Stef to check Sarah's credit history. It turns out that Liam had used another girl to ruin Sarah's credit. This made Sarah confess to everything, as well as her sexual relationship with him. Liam is then sent to prison as Callie finally gets her justice after everything Liam had done to her.
Appearances (6/101)
| | |
| --- | --- |
| Season 1 (3/21) | Season 2 (3/21) |
Relationships
Main article: Calliam
Liam and Callie were foster siblings 2-3 years prior to the Pilot. Liam worked his way into convincing Callie that he cared for her, even starting a relationship together, but soon raped her one night despite her pleas for him to stop. She dragged him to court in I Do, but she loses the case due to insufficient evidence against him. However, she soon gets her justice against him when his financial crimes are exposed when he steals her identity and puts on significant debt in her name. 
Liam and Sarah were foster siblings. He had been grooming her the same way he did with Callie. He was planning to continue his actions he did with Callie. Since Callie revealed the rape, police report was filed as well as Sarah's removal from the Olmsteads. Sarah, however, continued to have a relationship with Liam and helped him with reselling handbags online, using a credit card in Callie's name. She came clean to the police after learning that Liam stole her identity too and was buying handbags under her name as well and having another girl somewhere else sell them for him.
Trivia
Liam raped Callie and had some sort of romantic relationship with Sarah.
The whole family knows about Callie's rape. Jesus is the only one who, though, has not mentioned Liam.

As of The Fallout, Brandon also knows about Callie being raped when she describes the night it happened to her and he helped Callie into telling Stef and Lena as well to prevent Liam from hurting another girl.
Sarah also knows, but she refused to believe that from Callie. 

It's more than likely that Liam stalked Callie to Wyatt's party after hearing that she would attend, because Liam is presumably a college student (he is 20 years of age) and the party was mainly for the highschoolers in the area. 
Liam has been arrested for stealing Callie and Sarah's identities and buying expensive handbags to resell while racking up credit card debt for both of them. He was also presumably charged with statutory rape due to his relationship with Sarah.
Gallery
Click here to see Liam's gallery.
Quotes
Click here to see Liam's quotations.
"Oh trust me, she wanted it" "Hey Cal, what's up?"