The Coterie[1] is the second episode of Season 1 of Good Trouble. The episode aired on January 15, 2019.
Synopsis
The residents of the Coterie throw an epic party, which Jude attends. Callie puts aside work for one evening to finally let loose and enjoy herself, but will it put her job as a law clerk in jeopardy? Meanwhile, Mariana tries to make friends with her new co-workers since she still feels like an outsider. Alice gets some upsetting news about her ex-girlfriend, Sumi, while Malika is confronted by her foster care past.[2]
Cast
Main Cast
Recurring Cast
Guest Starring
Briana Venskus as Meera Mattei
Brenna Otts as Rain
Trivia
This marks the first appearance of Hayden Byerly as Jude Adams Foster in Good Trouble.
The first sneak peek for the episode was released via Instagram on January 8, 2019.[3]
The second sneak peek of the episode was released via Instagram on January 12, 2019.[4]
The third sneak peek was released via Instagram on January 14, 2019.[5]
The episode became available to watch on Freeform Go the night that it aired.[6]
Callie is clerking a ton of cases and trying to balance her life.
Callie is studying for the bar exam.
Rebecca and Callie continue to butt heads at work, despite Rebecca's efforts to be kind.
Mariana surprises Callie with Jude, in the hopes that he can pull Callie out of her "cave".
Davia was ranked in the top-ten body positive influencers. This leads to trolls stalking her on Instagram, however, she seemingly brushes them off.
Alica explains that she is best friends with her ex-girlfriend, Sumi, despite the fact that Sumi cheated on her.
Mariana mentions that she doesn't speak to her ex-boyfriend anymore since he cheated on her. This could either be Mat Tan or Wyatt Casey.
Jude and Callie have a conversation about bisexuality and Jude advises her on how to handle Gael's sexuality.
Davia does an Instagram live and calls Alex an ass.
When Sumi finally arrives at the party, she announces her engagement to Meera.
Sumi asks Alice to be her maid of honor and Alice accepts, despite the fact that she's still in love with Sumi.
Marina, who is heavily intoxicated, calls Alex multiple times and leaves a ton of voicemails on his phone trying to apologize for Davia's behavior.
One of the trolls that were attacking Malika for putting herself out there to be bullied, is actually her mother.
Gallery
Promotional
Featured Music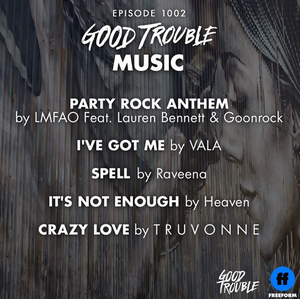 References